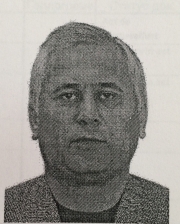 Wanted person full name:
САЛАГОР КОНСТАНТИН ГРИГОРЬЕВИЧ
Place of birth:
город Кишинев, Республика Молдова
Identity documents:
Паспорт №А3023595 от 07.06.2007г. выдан компетентным органом Республики Молдова
Additional data:
категория преступления средней тяжести. Уголовное дело приостановлено 05.06.2013 года в связи с объявлением розыска.
Article of the CC of the RK:
ст.190 ч.2 п. «Б» (незаконное предпринимательство) (старой редакции от 16.07.1997 года №167)
Criminal, investigative case:
Уголовное дело № 09770405700004 от 19.05.2009 года, Розыскное дело №09770405410002 от 20.07.2009 года.
The search initiator:
СЭР ДГД по Мангистауской области, 130000, г. Актау, 31«а» микрорайон здание 5, R00D2G6, Телефон отдела розыска: 8-7292-40-34-01/вн.127, дежурная часть 30-13-09, факс 8-7292-40-32-69