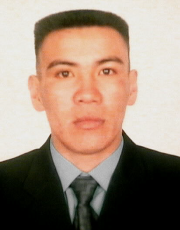 Wanted person full name:
Мырзагалиев Ахмет Заруанович
Place of birth:
Западно-Казахстанская область
Identity documents:
удостоверение личности РК 020857272 выдан 13.09.2007 г. МЮ РК
Additional data:
В случае, если Вы располагаете какой-либо информацией о местонахождении разыскиваемого лица, просим Вас сообщить (за вознаграждение) по ниже перечисленным контактным телефонам. Конфиденциальность гарантируем.
Article of the CC of the RK:
192 ч.2 -лжепредпринимательство (в редакции 1997 г.)
Criminal, investigative case:
Уд №152700011000053, РД №15270015410015
The search initiator:
Департамент государственных доходов по Западно-Казахстанской области, г. Уральск, ул.Пойменная д.2/2, тел. 8(7112)-53-84-23 - дежурная часть, 8(7112)-24-60-32 - отдел розыска.