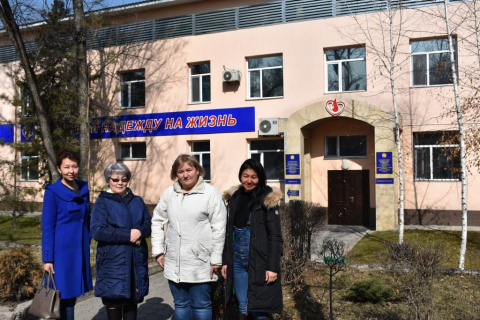 STATE REVENUE COMMITTEE
OF THE REPUBLIC OF KAZAKHSTAN MINISTRY OF FINANCE
Press Release
Employees of the Cynological Center took part in the charity event "20 Good Deeds - Meirli Kyzmet"
Being a donor means giving your blood for the good of another person. It is an honor among people, as the delivered material can save someone's life, or cure a long-standing disease. 
As part of the charity event "20 Good Deeds - Meirli Kyzmet", the Cynological Center of the State Revenue Committee of the Ministry of Finance of the Republic of Kazakhstan has organized and carried out the donation of blood to the city blood centre in Almaty on March 13, 2019.
The employees of the Cynological Center approached the blood donation procedure responsibly, observing the mandatory recommendations before the donation procedure, excluding all products and drinks containing dyes from their diet, as well as taking medicines for several days, smoking was limited 3 hours before the procedure on the day of blood donation. All this must be limited, because the blood must be safe for patients. After passing the mandatory medical examination and evaluation of the neuropsychiatric state, donors were given free hot tea with sugar and cookies.
         As noted by the Head of the Cynological Center Ryspek Smakov - Blood donation should be a matter of the entire society. At the state level - to be a subject of state policy and the constant care of the authorities; at the level of society - an element of self-expression, cementing social solidarity; at the level of personality - an internal need to help a loved one.
Press Service
of the State Revenue Committee MF RK
(Zhenis Ave, 11)